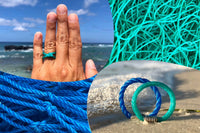 Help make a difference...
Approximately 1.5 billion pounds of trash are dumped in the ocean each year. And nearly 50% of it are fishing nets!
To save our planet we must all make a pledge to overcome the addiction to single use plastic. And live a sustainable lifestyle without destroying life in our oceans.
Qatica is making rings to save lives!
Our mission is to save marine animals from entanglement in lost fishing gear. By removing these massive and deadly nets from the ocean,  we are giving them a new repurposed life!
Our network of volunteers located around the world have removed thousands of pounds of nets!
Learn More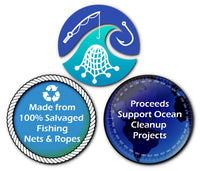 Protect What You Love
Qatica rings are made from fishing nets collected during ocean cleanups. By purchasing a ring you are helping fund the removal of plastic fishing nets from our Oceans.
Join the Quest for Clean Oceans
Proceeds support ocean cleanup projects
Ghost nets
Fishing nets lost at sea are the most deadly type of plastic in the ocean. Over 100,000 marine animals are killed each year from entanglement, including sea turtles, dolphins, sharks, and whales.